Here are some items that you might have seen featured in some of my videos.
Full disclosure: some of these are affiliate links, and I do get paid a small commission when items are purchased through some of these links.  However, I regularly recommend these tools to my patients and clients and totally believe in them.  It's totally up to you where you purchase these items, but if you want to throw me a thanks for free content that you found useful, use these links when purchasing.
The Oov:
Balanced Body Pilates $179–If there's an exercise tool to invest in…this is it!   Size does matter (small, medium, & large) depending on height/weight.  When in doubt, your weight is a more important indicator of which size will work best for you.
Core-Tex® Reaction Trainer
Core-Tex® Reaction Trainer ~$449-499–I love using the Core-Tex for 3-D training for my patient and clients.  I have had elite athletes on here as well as my patients with MS and Parkinsons and they LOVE it!  It's great to train in slow motion for control, but we need to bring it back to fast reaction to make it functional!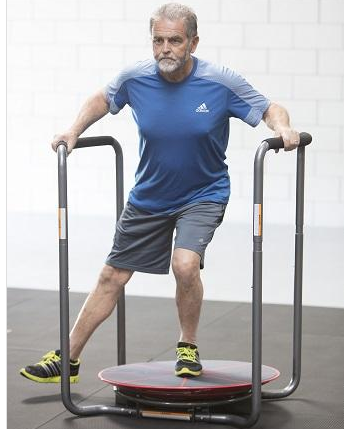 Foam Rollers:
Balanced Body Pilates $39–These rollers come in firm and in soft…I actually prefer the soft ones for most of the exercises I teach.  They are a great staple for a variety of exercises.
Vibrating Foam Roller:  Meet the Hyperice Vyper
Hyperice Vyper Vibrating Roller:  About $175 – These are a great way to loosen up the lower body and feet.  My pro athletes LOVE these!
Half Foam Roller:
OPTP Half Foam Roller
about $12.50-They are perfect for getting in that quick calf stretch while simultaneously working on ankle strengthening.
The Stick:
Balanced Body Pilates $30–This is a convenient and quick way to get a self massage to the legs…and it's portable!  This is a favorite with runners.
Posture Balls:
Balanced Body Pilates $19.95-27.95–When you really want to get a deep tissue mobilization, these foam balls really get in there.  The smaller one is definitely more intense.  These are great for travel when you can't bring along your long roller.
Soft Weighted Balls
SPRI Soft Mini Xerballs ~$8-12 each
These balls are comfortable to hold and work great when working on the Oov.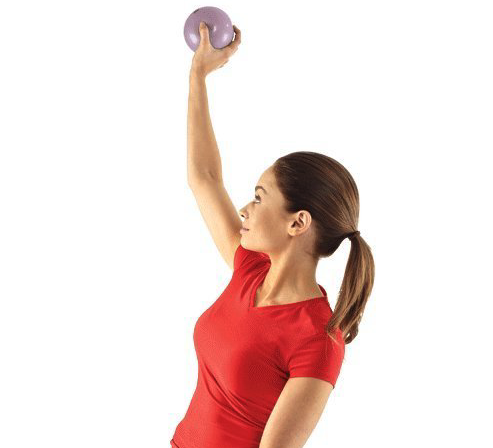 Spongy/Soft/Koogle Balls:
7-9″ Koogle Balls 6 pack:  $~28  These are really useful if you deflate them as a head pillow, especially when working on the Oov.  They are also excellent to use as an unstable base when doing exercises on your back on the Oov.  They are small…only 7-9″ in diameter, depending on how full you blow them up.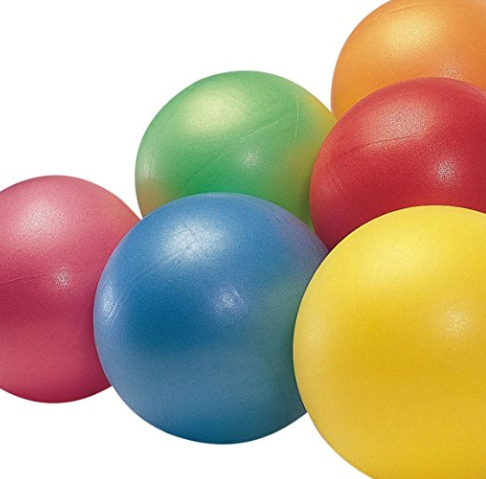 Furniture Sliders: Reusable Furniture Movers for Heavy Furniture for Carpeted Surfaces (4 Pack) – Oval SuperSliders, 9-1/2″ x 5-3/4″

These are incredibly cheap, but fun and effective way to get a workout…and they don't take up any space!  There are several exercises that you can do with these sliders that mimic some exercises on our reformers.
Sissel® Step-Fit® Mat:  
Balanced Body Pilates $117
I love this for helping to bring awareness to the feet.  Excellent to work on balance, tightness in the plantar fascia, and more.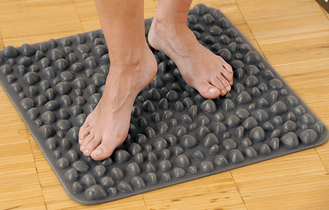 Pilates Arc®
The Pilates Arc is about $159. They are a versatile tool to improve spine mobility.  They are lightweight, but great for working on both mobility and to challenge strength.
SaeArc:
Spine Stretching Equipment – Wooden Acu-Back (Black)
SaeArcs are a simple concept, but can really make the spine feel great.  They have a variety of styles…my favorite is the Lumbar Acu-back (with removable knobs) which also conveniently doubles as a back support in a chair.
Myotool:
MyoTool Massage Tool $49.95–It's like having a PT in your closet.  This was invented by a manual physical therapist who wanted to give patients a way to create mobilization with movement.
Suspension Training:
TRX Suspension Trainer Basic Kit + Door Anchor
I am a big fan of body-weight exercise because of the potential for functional, multi-directional exercises and the fact that you can exercise anywhere you have something non-moving to attach it to.
Pilates Props
Fletcher Pilates® Towel
$40 Pricey for a towel, but made to the specifications of Ron Fletcher for just the right hand grip and stretch.  Wonderful for helping to organize the shoulders. Yes…you can just use a regular towel, but I'm telling you…these towels are pretty sweet.
Ultra-Fit Circle $34–This ring is a surprisingly versatile tool for both working on stability, flexibility, and balance.
Rotator Disc, Medium, 12 in.–$43  Great for working on hip mobility/stability into rotation in standing and functional positions.  
Airex Balance Pad:  This is the gold standard for balance pads.  These are handy as a pad for kneeling exercises also.
Airex Balance Pad (Regular)
Resistance Bands:  TheraBand Professional Latex Resistance Bands For Rehabilitation, Portable Fitness and Workout, Home Exercise, 6 Yard Roll, Blue, Extra Heavy, Intermediate Level 2
Resistance bands are really handy as a portable form of resistance and feedback.
High Intensity, Low Impact Interval Training–>12-15 min/week. Xiser
I love this product for Pilates studios as a way to integrate high intensity intervals in a way that also focuses on form & posture.  For anyone who wants to get the heart pumping without the pounding on the joints and without taking up much space, this is an excellent alternative!
Kinesiotape/Rock Tape: Kinesio® Tex GoldTM Tape TWO Rolls 2″ x 16.4′ Beige
Because sometimes accidents happen and you need to keep the swelling down.
McConnell Taping:
BSN Medical Leukotape P Sports Tape, 1 1/2 Inch x 15 Yard
Leukotape P 1.5″x15yds & Cover-roll Stretch 2″x10yds Combo Pack (one roll each)

This is a crazy effective taping method for a common source of anterior kneepain (aka patello-femoral compression syndrome).  Make sure to get the ok from your practitioner before trying it on yourself.
Books I Recommend
The PMA Pilates Certification Exam Study Guide (2014) Paperback
Pilates' Return to Life Through Contrology: Revised Edition for the 21st Century
Anatomy of Movement (Revised Edition)
Anatomy Trains: Myofascial Meridians for Manual and Movement Therapists, 3e
Muscles and Meridians: The Manipulation of Shape, 1e
The Pelvic Girdle: An integration of clinical expertise and research, 4e
Explain Pain by David Butler